Pastured Whole Turkey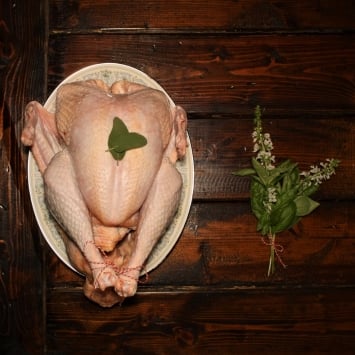 1 Small Pastured Turkey | 14 lbs = $50.00 + $0.00 Assembly

Out of Stock

1 Medium Pastured Turkey | 16 lbs = $55.00 + $0.00 Assembly

Out of Stock

1 Large Pastured Turkey | 18 lb = $60.00 + $0.00 Assembly
1 XL Pastured Turkey | 19 lbs = $60.00 + $0.00 Assembly

Out of Stock
Enjoy turkey as you have never had it before! Juicy and tender, these birds are grown on our farm during the summer and fall.
Serve your family all of the wonderful and savory health benefits of a Pastured Turkey this year for Thanksgiving! With an amazing depth of flavor and having family around for the holidays, these are the perfect centerpiece for a happy (and healthy!) Thanksgiving table spread.

Small: Anything under 15 pounds
Medium: 15-17 pounds
Large: Anything over 17 pounds

Giblets included: heart, liver, gizzard and neck.

Check our our recipe for Poultry Bone broth to get even more nutrition and value out of your pastured turkey!
Website and Online Farm Store Powered By
Eat From Farms